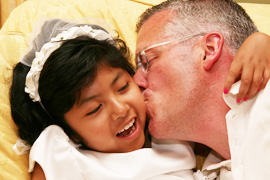 We are the parents, family, friends, and caretakers of Marisol Liliana O'Brien. We have been inspired by the example of Marisol's eight years with us to love more deeply, to live with greater purpose, and, through our service, to strengthen our community and the lives of those most vulnerable.
Upon Marisol's passing in December 2008, thousands of people reached out to share the ways in which their lives were influenced by Marisol's courage and love.  Many have sought a continued effort to honor Marisol and the joy she brought to their lives.  We have been moved by the generosity of those who have contributed to this foundation, and we have been gratified by their encouragement.  In Marisol's memory, and with deep appreciation for our friends and family, we created The Foundation for Marisol's Journey.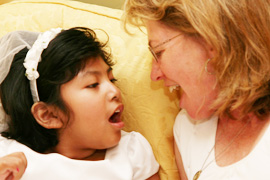 Marisol was born in Guatemala City, Guatemala on April 30, 2000.  She was adopted into the O'Brien family of Lexington, Massachusetts and came home on December 12, 2000.  From her first smile, she captured the hearts of her parents Tom and Patricia, brothers Lucas and Tomas, and sister Nina.